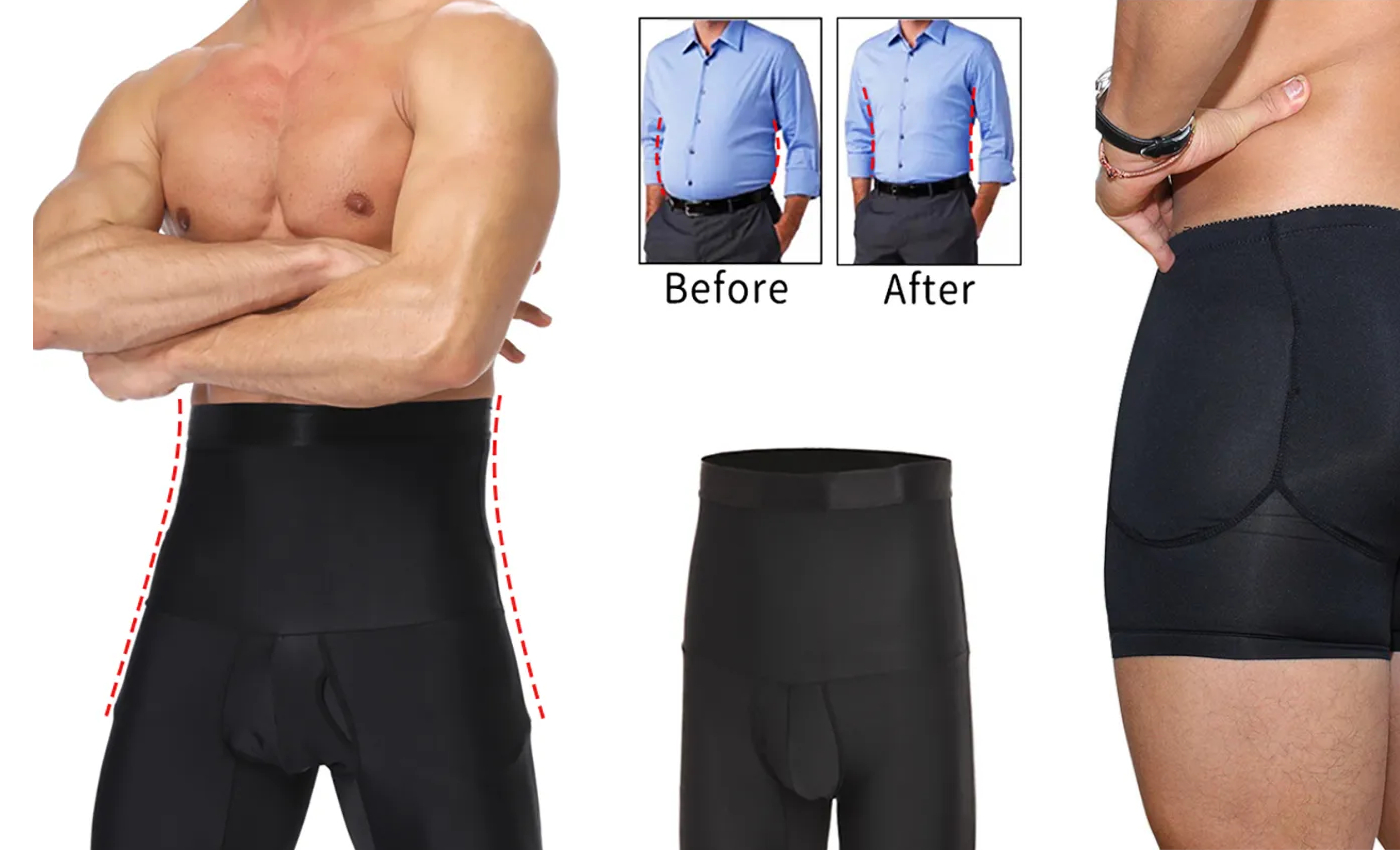 Men's Shapewear
Season Sale & Free Shipping!
Shop by Category
New In
Fan Favorites
On Sale
Best Sellers
Discover the Perfect Shapewear for Men
At GentleMensShapewear.com, we offer a wide range of high-quality shapewear designed specifically for men. Whether you're looking to achieve a more toned physique, enhance your posture, or boost your confidence, our collection has the perfect solution for you.
Embrace the Power of Compression
Our compression shirts, tank tops, shorts, leggings, and bodysuits are meticulously crafted to provide optimal compression and support. They are designed to help streamline your silhouette, providing a smooth and sculpted appearance. The advanced compression technology targets specific areas, offering a slimming effect and helping to improve posture.
Sculpt Your Waist with Waist Trainers
Our waist trainers are specially designed to provide firm compression and support to the midsection. They help create a more defined waistline and can be worn discreetly under your clothing. Whether you're looking to achieve a more streamlined silhouette or support your fitness goals, our waist trainers are an excellent choice.
Tips From Our Blog
Confidence-Boosting Underwear
Our slimming underwear and padded underwear are designed to provide both comfort and support. They are crafted with attention to detail, ensuring a seamless fit and discreet appearance. Our abdominal shapewear targets the waist and abdominal area, helping to enhance your natural contours and create a more confident look.
Experience Exceptional Comfort and Style
At GentleMensShapewear.com, we understand the importance of both comfort and style. Our shapewear is made from premium fabrics that are soft, breathable, and gentle on the skin. The thoughtfully designed construction ensures a comfortable and secure fit, allowing you to move with ease throughout the day.
Enjoy a Seamless Shopping Experience
We strive to provide a seamless and enjoyable shopping experience at GentleMensShapewear.com. Our user-friendly website allows you to browse our collection, select the perfect shapewear for your needs, and make secure and convenient online purchases. Our dedicated customer support team is always ready to assist you with any questions or concerns.
A History of Shapewear for Men
Shapewear has been an integral part of fashion for centuries, and its popularity among men has steadily grown over time. The history of shapewear for men traces back to ancient civilizations, where men utilized various techniques to enhance their physical appearance.
In ancient Greece and Rome, men wore girdles and waist cinchers to create a more defined waistline and emphasize their masculine physique. These early forms of shapewear were made from materials like leather and linen and were often intricately designed with decorative elements.
As fashion evolved throughout the centuries, so did the concept of shapewear for men. In the Victorian era, corsets and waistcoats were popular among men to achieve a slim waist and proper posture. These garments were typically made from stiff materials and featured boning to provide structure and support.
In the early 20th century, the invention of elastic fabrics revolutionized shapewear for both men and women. Men started to embrace more functional and practical shapewear options, such as compression undershirts and girdles, to create a sleeker silhouette under their clothing.
With advancements in textile technology and design, modern shapewear for men has become more sophisticated and versatile. Today, gentlemen's shapewear offers a range of options, including compression shirts, waist trainers, slimming underwear, and padded garments. These pieces are designed to provide targeted compression, support, and shaping to help men achieve their desired look.
The growing awareness of health and fitness has also influenced the evolution of men's shapewear. Shapewear is no longer solely about appearance; it has become an essential part of athletic wear, providing support and enhancing performance during physical activities.
At GentlemenShapewear.com, we take pride in offering a curated collection of high-quality shapewear for men, designed to cater to their diverse needs and preferences. We combine the latest textile innovations with stylish designs to provide our customers with comfortable and effective shapewear options.
As fashion continues to evolve, shapewear for men remains a popular choice for those seeking to enhance their confidence and achieve their desired silhouette. GentlemenShapewear.com is dedicated to providing exceptional quality and empowering men to look and feel their best.
Embrace the history and transformation of shapewear for men by exploring our extensive collection at GentlemenShapewear.com. Discover the perfect shapewear pieces to enhance your appearance, boost your confidence, and embrace a more sculpted version of yourself.
Enhance Your Confidence with GentleMensShapewear.com
Whether you're looking to achieve a more sculpted physique, improve your posture, or boost your confidence, GentleMensShapewear.com offers a wide range of premium shapewear options for men. Browse our collection today and discover the perfect shapewear pieces to enhance your appearance and empower you to feel your best.